Napier is proud to support the travels of explorers and road trippers with their expansive collection of vehicle tents for trucks and SUVs. Having the freedom to explore millions of acres of gorgeous public lands with a truck tent means the entire country becomes your campsite. Get a look at how these outdoorsy Americans rack up the miles with Napier tents.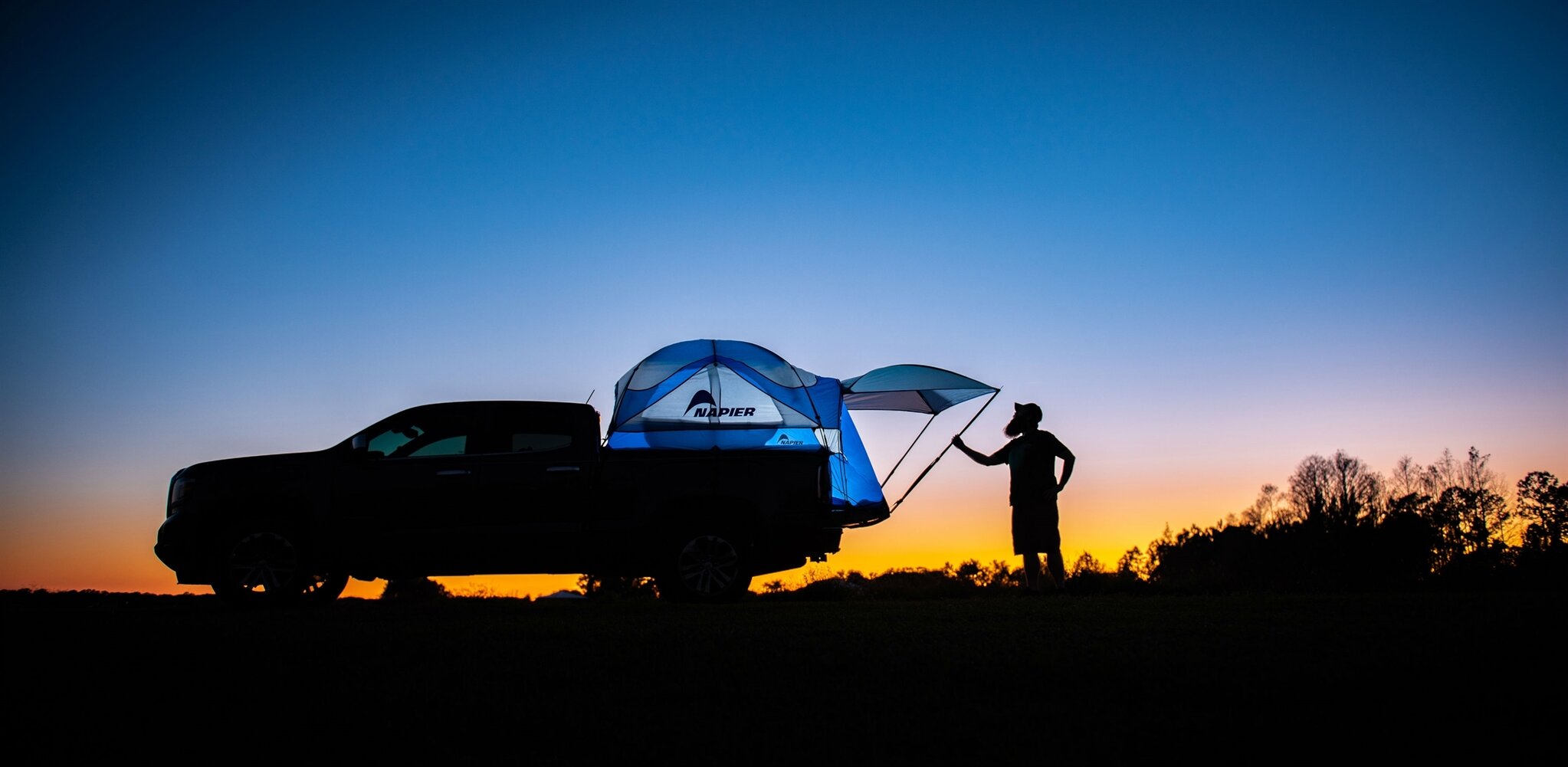 Photo credit: William Gillette (www.gilletteoutdoors.com)
Nick
Nick goes on adventures with his wife and their 100-pound Doberman (whom they've awesomely named Bill Murray), and they take the Backroadz SUV Tent and the Sportz SUV Tent. They do most of their getaways within the borders of their home state of Nevada, but Nick has traveled all over the American West, camping everywhere from the Utah flats to the forests of Montana. Nick's favorite camping spot is near the Parashant National Monument on the northern edge of the Grand Canyon.
Everywhere they go, the Napier tents become their home away from home. "We wanted a space that was comfortable for our collective size—I'm 6'4″, my wife is 5'10", and our dog seems like he's the size of a small horse—the Napier tents give us plenty of shelter with room to spare," he says. In the Backroadz SUV Tent for his 2014 Wrangler, there's enough room for a queen-size blow up mattress, backpacks, coolers, gear boxes, and of course, a dog bed for Bill Murray.
It certainly helps that the tents stand up to all kinds of weather. Nick and his wife have endured sub-zero temperatures in the Wyoming wilderness, 60 mile-an-hour winds high in the Sierras, and triple-digit heat alongside the Colorado River. "There have been times when we've been 90 miles away from civilization and bad weather has rolled in. It's a great feeling to know our tents will hold up against the elements in those situations."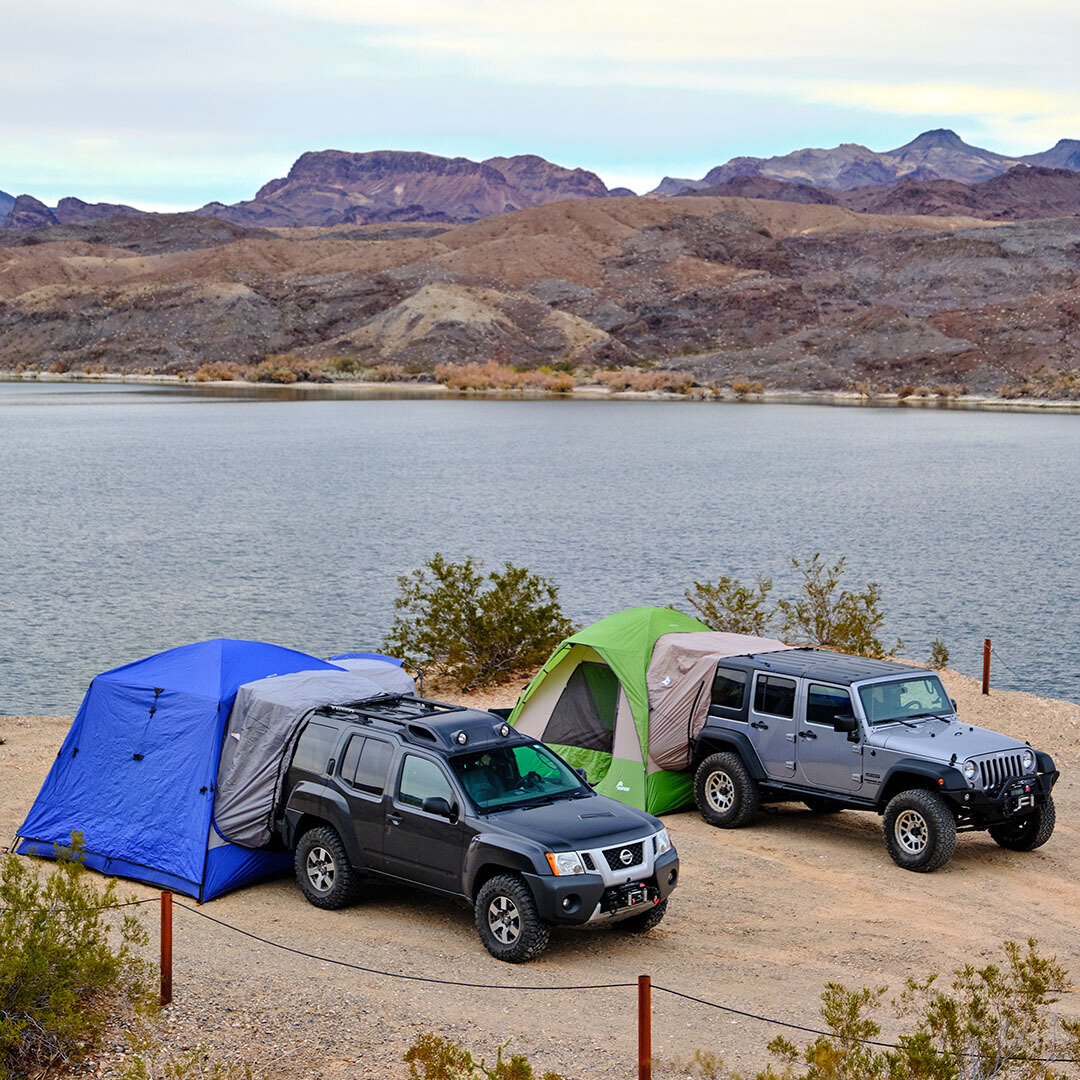 The Sportz (left) and the Backroadz (right) set up shop alongside the Colorado river south of Nelson, NV.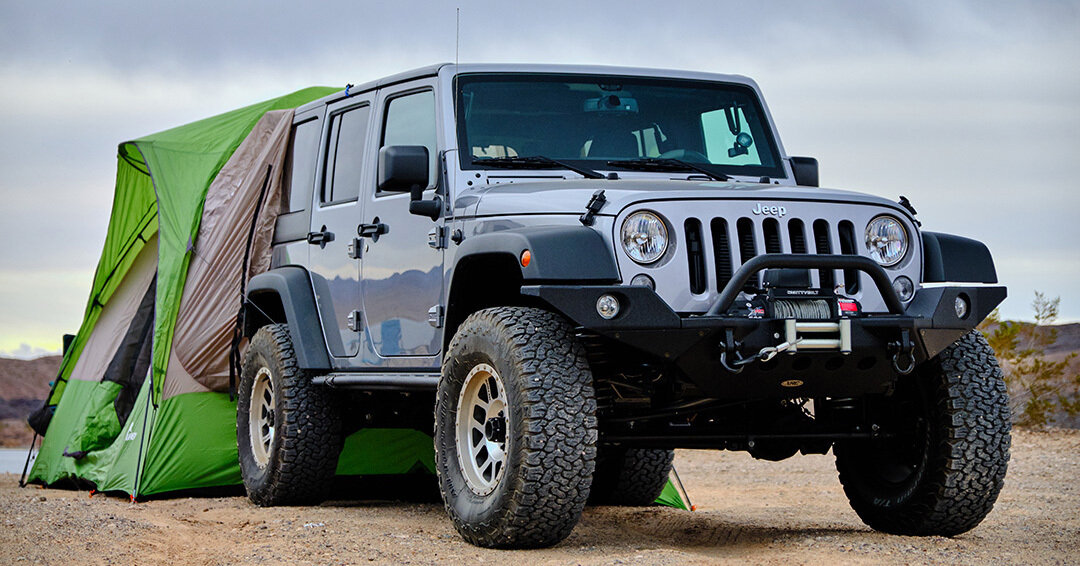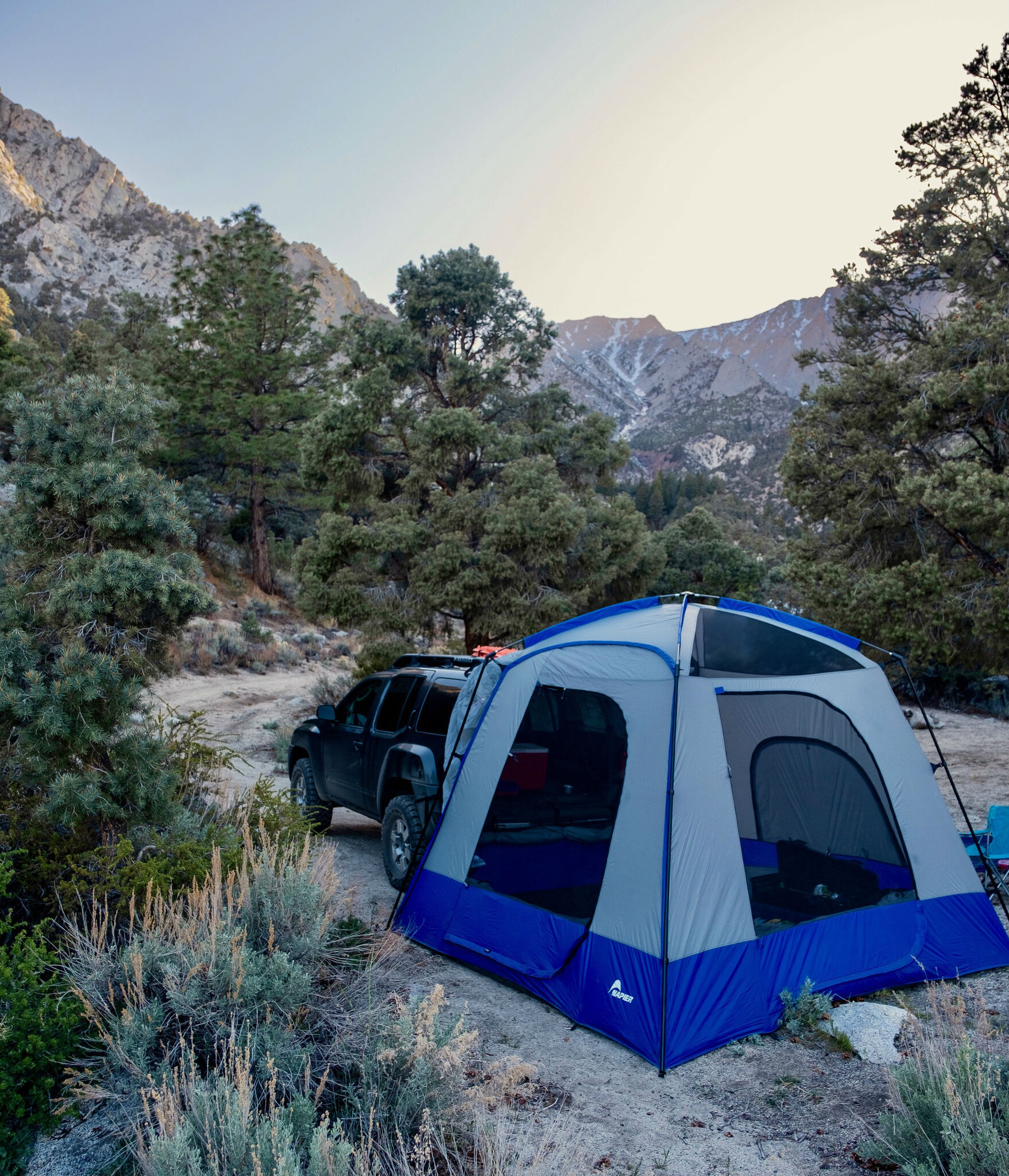 Photo credit: Nick Hedden (www.fromseastotrees.com)
William
As a traveling outdoor photographer, William's job depends on being extra mobile. Being able to camp in places where you couldn't use a conventional tent gives him the opportunity to capture the best shots from tricky points of view. He's parked his GMC Canyon with the Sportz Truck Tent over jagged rocks that would normally tear a tent bottom to shreds. He's set up shop above the swampy Florida marshlands that would turn lesser tents into muddy messes. "Everyone has that horror story about camping in the rain and waking up with your pillow floating inside your tent," William writes. "That's a problem I don't have to worry about anymore."
He also finds the Napier truck tent comes in handy on especially long road trips. Instead of struggling for sleep inside the cab of the truck, he'll set up the tent at rest stops so he can fully recline. "My exploration has actually gotten cheaper that way. In the past, I'd get hotel rooms on the road, but $80 to $100 a night adds up very quickly."
William remembers fondly a trip to Fort De Soto Park, in Tampa Bay, FL. He likes to sit on his tailgate and fish right from the tent, the canopy shading the entrance and giving him a break from the heat. "You haven't lived until you've watched the sun set over the Gulf of Mexico from inside your truck tent.
In his profession, William has worn through his fair share of tents. He's broken poles and ripped holes in tent canvas. The truck tent offers a kind of quality and design thoughtfulness that he appreciates on the road. "The zippers never hang up or bind, and the little details like access points to get into the rear window of my truck so I can charge my phone mean a lot to me. Everything is well thought out and deliberate."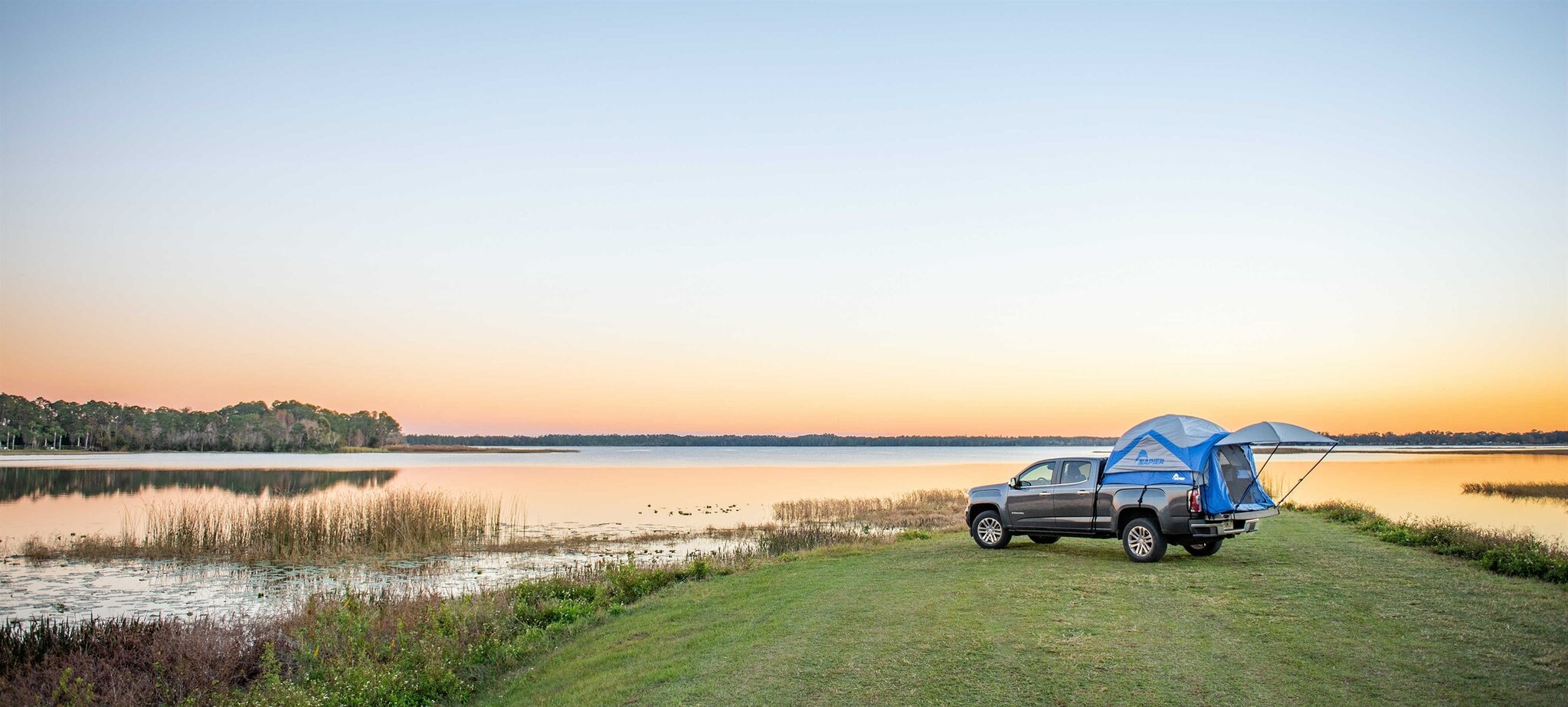 The Sportz Truck Tent set up with William's GMC Canyon Lake Lizzie in St. Cloud, FL. An excellent fishing spot for Bass and Bluegill.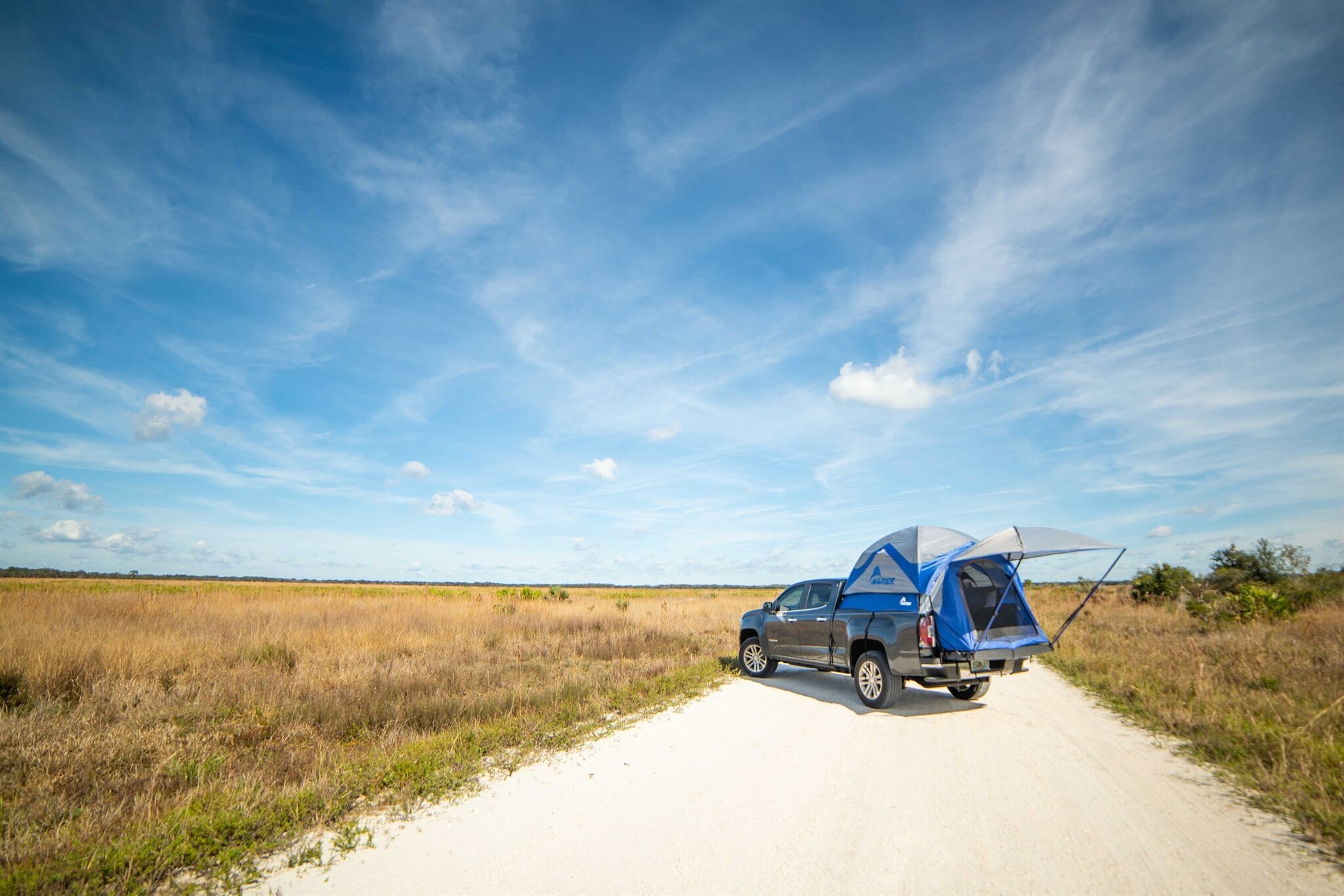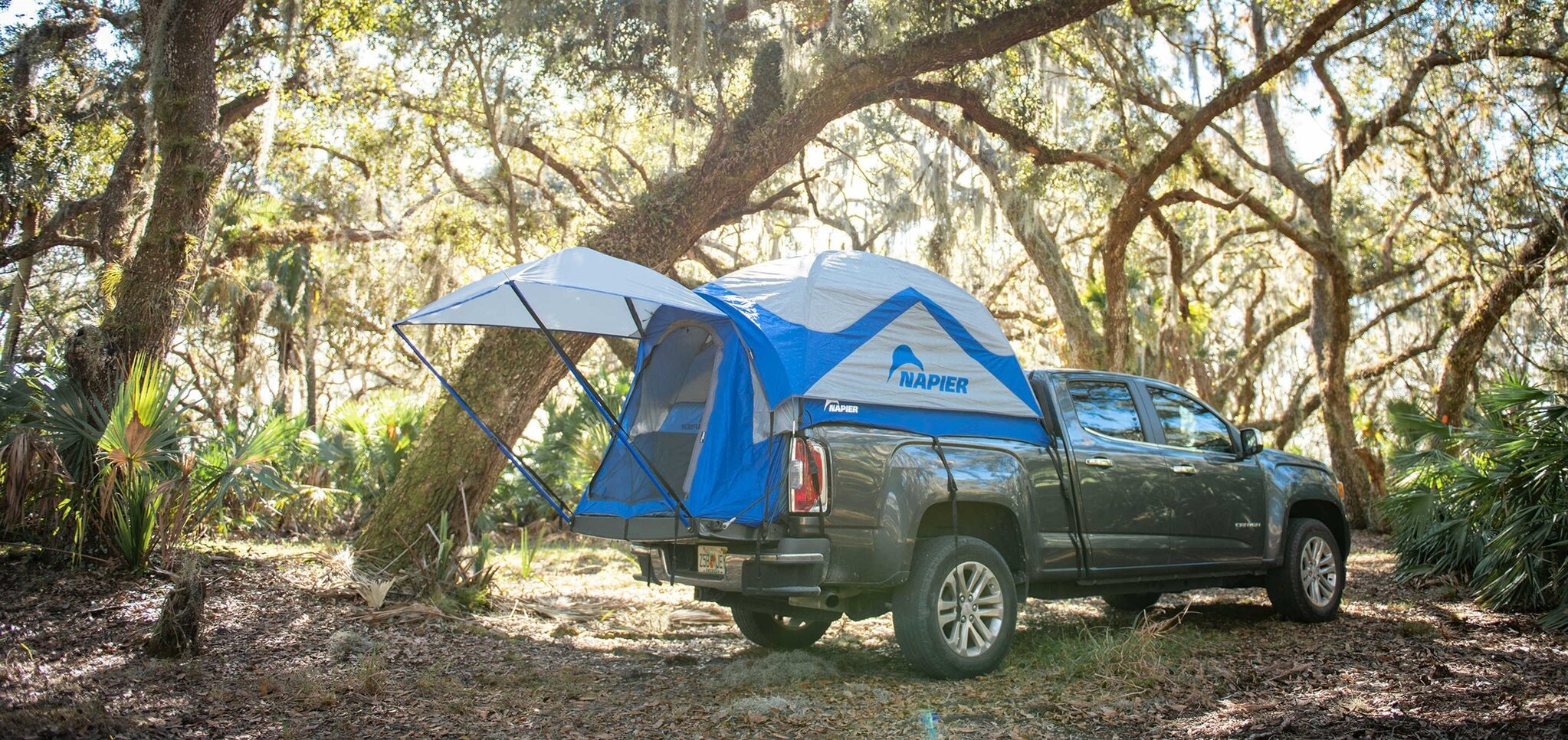 Photo credit: William Gillette (www.gilletteoutdoors.com)
David
David has driven his 4×4 Toyota Tacoma on two major recent trips: An 8,000-mile, two-month journey through Colorado, followed by a massive 20,000-mile expedition which started in Utah, then worked through Wyoming, Montana, Idaho, before finishing up in the Pacific Northwest. It took him half a year to complete.
David runs TheWorldTravelGuy.com, which motivates him to constantly explore. His favorite road tripping state is Utah, which boasts millions of acres of public land, which means endless possibilities of wild camping. Most of the places where he camps offer incredible panoramic views, with not a soul around for miles.
During all of his travels, the Napier Backroadz truck tent conducted itself admirably. "I've been impressed at how well it held up with repeated use, even in bad weather. The Backroadz kept me safe and dry through bad storms, sub-zero temperatures, and the occasional snow day. I'd never use anything else."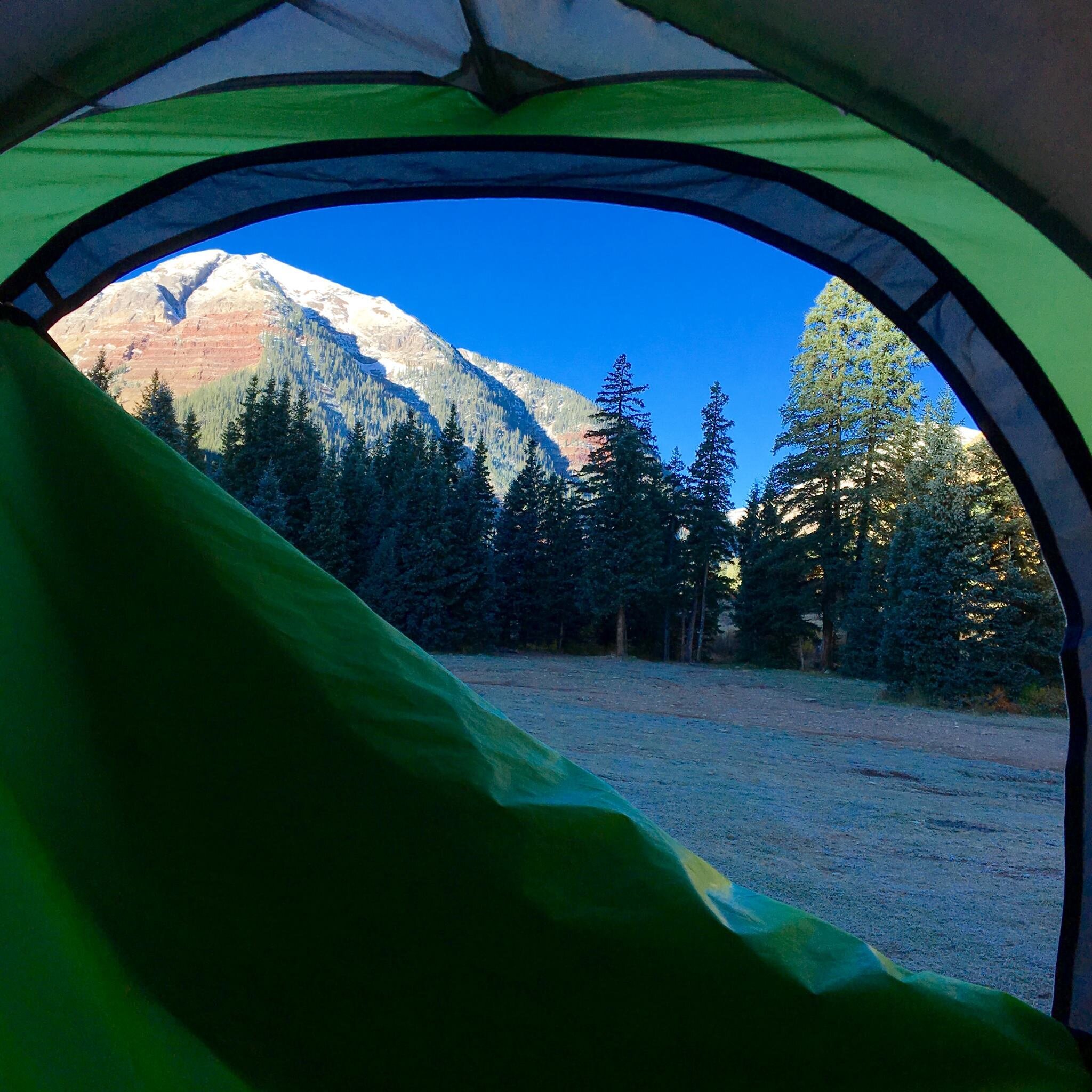 A view from within the Backroadz at Mineral Creek Campground in San Juan County, Colorado.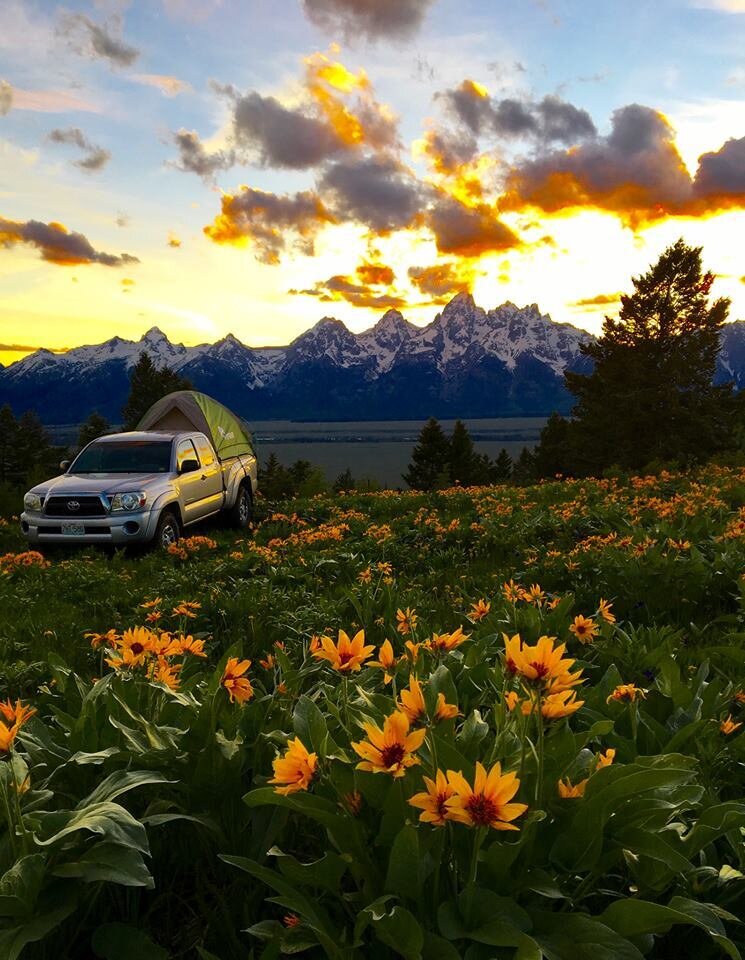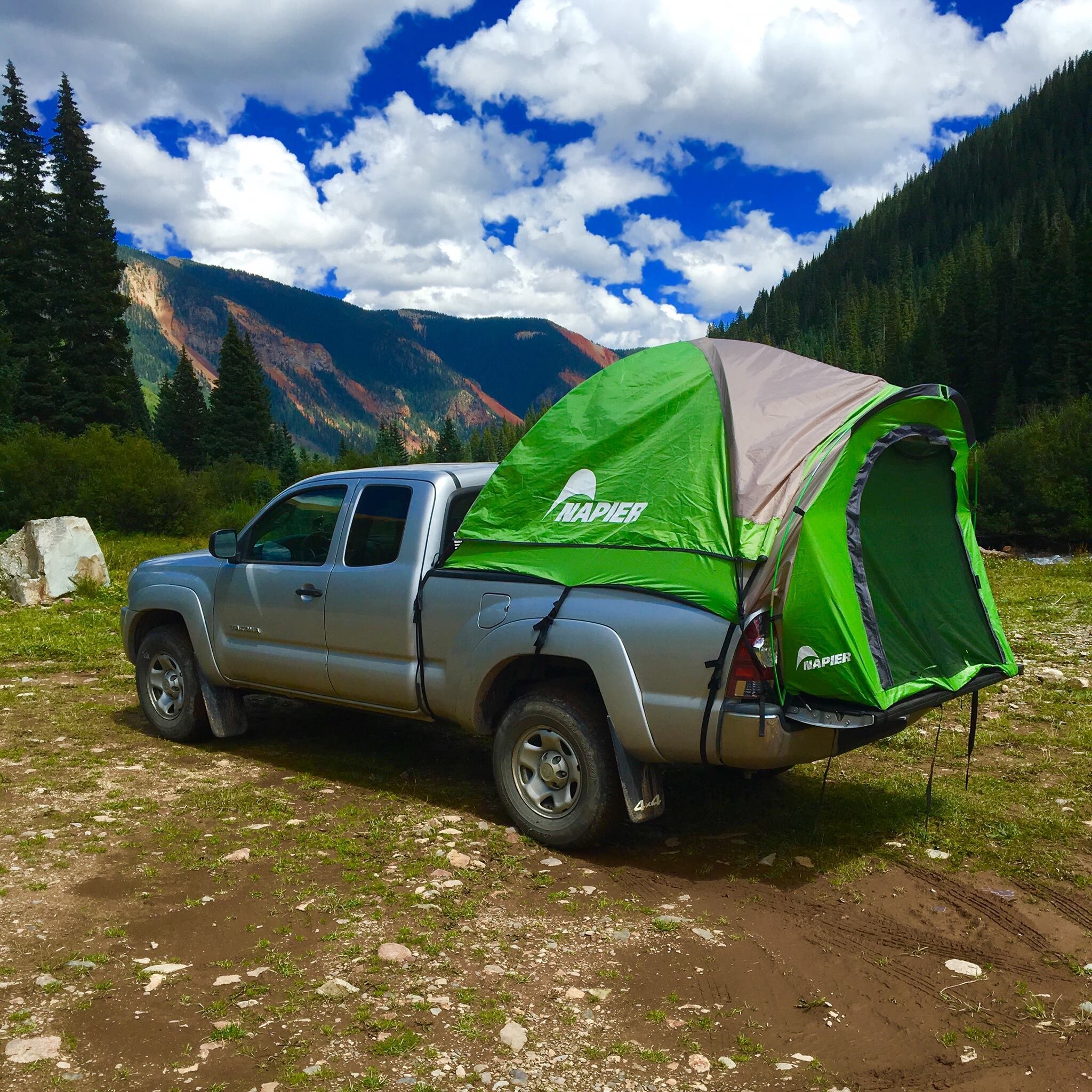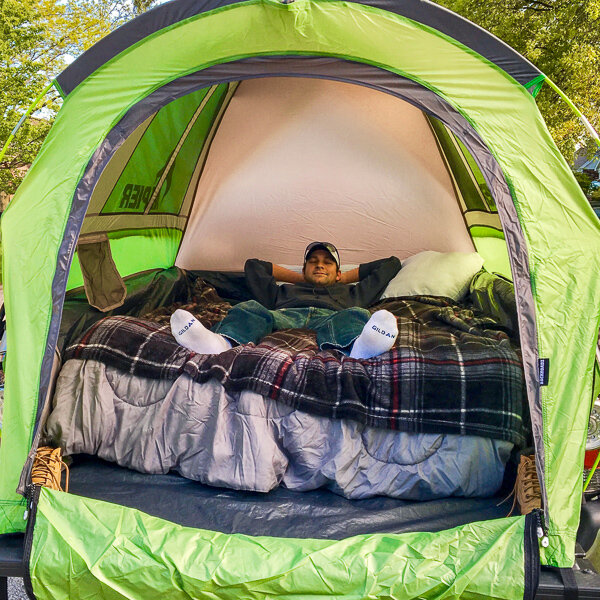 Photo credit: David (www.theworldtravelguy.com)